MANAGEMENT

María Teresa Torrealba (born 1968)
General Manager and company owner. Her experience in different fields of tourism is very large: about 31 years between travel agencies and incoming tour operators, especially German speaking market for over 26 years. She was born in Venezuela but she loves to travel and has been living in England, Tobago and Ecuador, where she definitely decided to live 17 years ago in the lovely city of Quito.
Other of her passions is the music (listening to, concerts, dancing), going for brunch on weekends with friends and chocolate!
OTTO'S TEAM IN QUITO / ECUADOR

Giovanny Pilco (born 1987)
Giovanny studied Tourism and since 2013 he has been working in Otto´s Tours. "Gio" is a very intelligent, organized and experienced person who have become Maria Teresa´s right hand beside being very good friends. He is in charge of the Operations Department, doing quotations and organizing tours in Ecuador and in the past in Venezuela as well as in Peru. He is also very capable to handle part of marketing due to its skills to learn new duties. He loves to spent time with his family, watch the Ecuadorian football league (he is an "incha" of L.D.U.) and sings romantic songs with a nice shot of "puntas"

Carla Minda (born 1995)
Carla decided to work in Tourism instead of Hosteling because she loves to travel. She was in Portugal for a marketing course about 3 years ago and she realized her passion for her career and to value the touristic assets that Ecuador has. Carla works at the Operation Department on quotations and organization of tours in Ecuador and is also I charge of a big part of the accounting duties! She also loves fashion and hair styling since she has a beautiful long curly hair. She is very friendly and add an air of joy at the office.

Alex Flores (born 1975)
Our dear "Negrito" has been offering technical support to us on computer, web page and server for as long Maria Teresa has been living in Quito. He is not only a provider but a good friend of Otto´s Tours. Alex is an experienced system analyst and he loves to build web pages. Through this, he has been travelling all over Ecuador making pictures and filming videos, especially on Yasuni National Park and Cuyabeno Wildlife Reserve.
He also loves dogs and movies.

Susana Valencia (born 1951)
Our accountant! Susy has been working in the finance world since 1980. In 1995 she felt in love with Ottos Tours at first sight. And since then the relationship has grown stronger every year.
She loves to watch movies with her family as her main hobby. And since one year and a half she became a grandmother of a beautiful baby boy with whom she has fun in every possible way.

Gabriela Pallares (born 1985)
Our right hand accountant! Gaby has a MBA in Management & Quality and since 2010 is helping to handle all what concerns to Otto´s Tours.
She loves to learn dancing choreographies, singing and TV documental. Sunday is the special day for pampering herself. From all the beautiful places of Ecuador, she chooses Montañita as the place where she feels total relax.
A SMALL SELECTION OF OUR TOUR GUIDES
Furthermore many free-lance tour guides belong to the team of "Otto's Tours". Usually we hire professional native, and - without exception officially acknowledged - tour guides who mostly have a university degree in tour guiding, stand out for their excellent insider knowledge and lead our clients entertainingly to the highlights of their respective countries. With their great commitment and warm guiding they bring our groups nearer to the special hospitality these countries have and provide valuable insights into the different cultures. Some of our tour guides have migrated from their home countries to their respective guest countries, now the home of their dreams. They know and love the country of their choice and have worked as tour guides for many years.

Pamela Dumet Paredes
Pamela was raised in Quito and loves the nature, mountains and art. Working as a tour guide provides  her with the possibility to give the tourists an understanding of the Ecuadorian culture and way of life as well as getting to know different cultures. Pamela is dynamic, flexible and has enjoyed her work as a tour guide since 11 years.
Efraín Centeno
Efraín was born in Quito and studied tourism in Ecuador. For a couple months he has lived in Germany to improve his German. Efraín is charismatic, flexible and always in a good mood. He appreciates the variation in his work as a tour guide while getting to know different people from all over the world and he loves to give them an understanding of the culture of his country.

Jacobo Andrés Larrea Yanez
Jacobo as Quiteño-born has dedicated himself to his passion as a tour guide for 12 years. His life centres on the mountains. To expand his skills as a mountain guide, he has travelled many countries such as Switzerland, Austria, Germany, Italy, Peru, Argentina and Bolivia. Futhermore he has studied German and English. His motto is that a personal service turns a journey into a unique adventure.

Jane Silva
Jane is a cheerful person who loves her country and especially the nature. She has turned her hobby travelling into a career. Therefore this allows her to meet people of different cultures and to enjoy the beautiful flora and fauna of Ecuador every single day. Since 2003 Jane has accompanied our tours through entirely Ecuador and the Galápagos Islands.

Fernando Masters Lambo
Fernandowas born in the deepest jungles of Venezuela, completely isolated from civilization in a village of Pemon ethnic group. Besides his mother tongue, the native language Arekuna and Zamarakoto he also speaks Spanish, Creole and English. A friendship with a German family gave him the possibility to stay in Germany, where he studied extensively the German language. This enabled him to work as a tour guide for us. Fernando loves to give our tourists an understanding of his country and is known for his excellent knowledge of the Pemon culture.

Roeland Schürmann
Roeland has been accompanying our clients through Venezuela for two years. After his studies of hotel and tourism management in the Netherlands, he moved to Venezuela which is now his second home country.  As a tour guide he loves the nature as well as the contact to people of different cultures because he can bring them closer to the country and people and as well use his knowledge of different languages.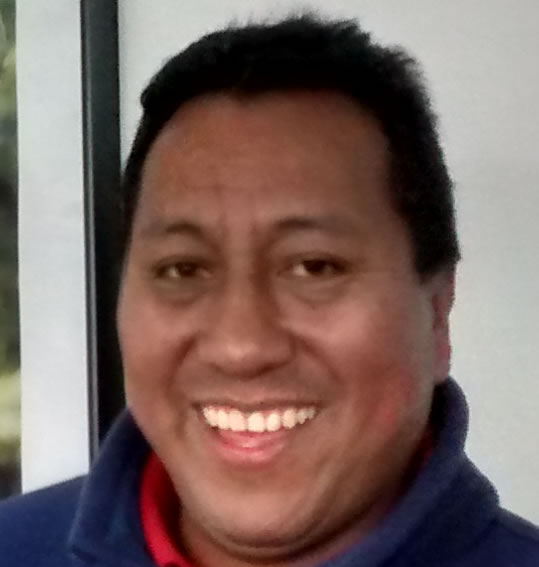 Luis Lincango

Luis worked as a tour guide in Spain, where he guided groups of pensioners from Austria, Germany, and Switzerland, after he had learned German during his stay in Germany. He works as a tour guide for 14 years. Luis loves doing tours in all Ecuador, since the country has so many facets and he loves to show these to foreign guests. Luis was born in Quito on the 5th of January 1964. His hobbies are football and volleyball as well as listening to music.